#5 Provide Housing for All 80,000 Homeless Children
This section includes articles on why and how to Provide Housing for All 80,000 Homeless Children in our state. Restore the $380 million cut to the Washington State Working Connections program in 2011 that tossed more than 15,000 low income students and their parents out on the street and use one billion dollars to provide every homeless child in our state with a stable home.

How can a child be expected to complete their homework when they do not even have a home? As Superintendent, I will restore the $380 million cut to the Washington State Working Connections program in 2011 that tossed more than 15,000 low income children and their parents out on the street. In addition, I will use at least one billion dollars of the 11 billion dollars in repealed tax breaks for the rich to provide stable housing for all 80,000 homeless children in Washington state and also provide a real job training program for their parents. This program will cost about $12,000 per year per homeless family. However, the cost savings to tax payers by increasing the graduation rate of these students from 50% to 80% will be many times greater than the cost of providing housing to these extremely low income families.

If the legislature can give $9 billion to Boeing in three days, surely our Supreme Court can repeal $9 billion in tax breaks to restore funding for our public schools and provide homes for 80,000 homeless children.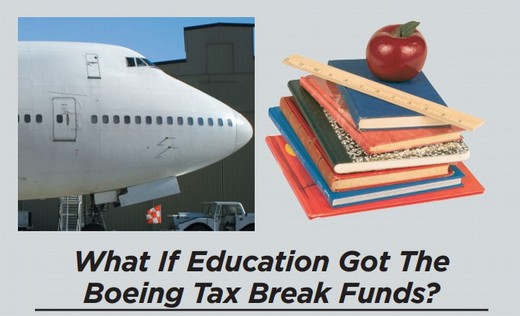 Why should the Superintendent of Public Instruction be concerned about homeless children?
Article 9, Section 1 of the Washington State Constitution clearly states:
It is the paramount duty of the state to make ample provision for the education of all children residing within its borders...
Note the phrase "education of all children." As a person with a Master's Degree in Education, I know all too well that it is not possible to provide an education to a child if they are moving from place to place or living in the back of a car. Maslow's Hierarchy of Needs demonstrates that food and shelter are basic human needs while education only happens after these basic needs are met. I therefore am certain that providing homes to all children is an essential component of making ample provision for the education of all children.
Homeless children go hungry at twice the rate of other children, get sick four times more often, and are three times more likely to suffer from emotional and behavioral problems compared to children who live in stable housing.

The consequences of homelessness can be devastating and long-lasting for young children. By age 8, one in three homeless children has a mental health problem.
Many students living in shelters or doubled-up housing stay there for more than one year. About two-thirds of students living in a shelter in 2013-14 had been in that same situation for at least one of the previous three school years. Supports for counseling, tutoring, after-school programming, child care, job training, and affordable housing were far beyond the reach of homeless families.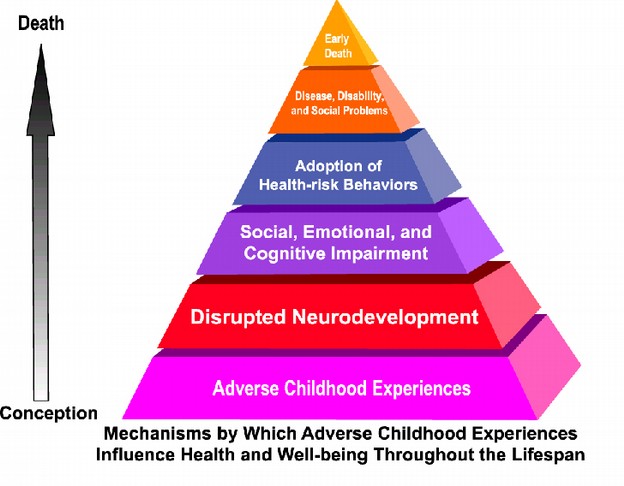 I am the only candidate who has a plan to end child homelessness by providing
a warn cozy home for all 80,000 homeless children in Washington state.
All kids need a stable home if they are to succeed in school and succeed in life. While 80% of Washington students with homes graduate, only 50% of homeless students graduate from high school. Yet the number of homeless students in Washington state has been rising dramatically in the past 20 years.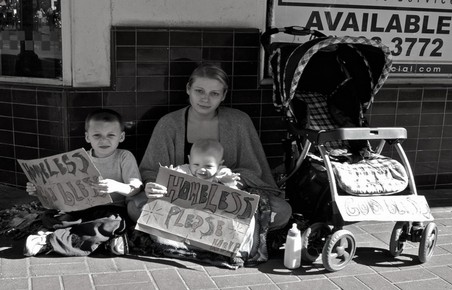 The McKinney-Vento Act, requires all school districts to report annually the number of homeless students enrolled in schools. The Washington Superintendent of Public Instruction then uses these school district reports to compile a state report each year. The latest OSPI report stated that the number of homeless students for the 2014-2015 school year was 35,511. Since this number is rising by about 3,000 students per year in our state, the number of reported homeless students for the current 2015-2016 school year is about 38,500 students.
http://www.k12.wa.us/HomelessEd/pubdocs/StatewideHomelessReportByDistrict2015.pdf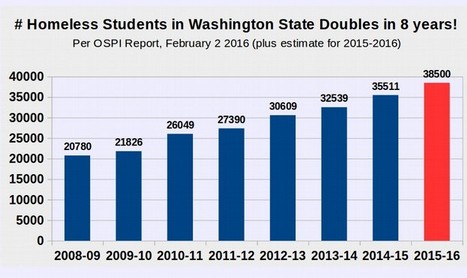 However, this report greatly underestimates the true number of homeless children in our state for several reasons. First, it does not include young children who are not yet in school. Since these are about one quarter of all children, the total number of homeless students is greater than 60,000. Second, many families do not want to admit that they are homeless. Third, the definition of homeless is very vague. Should it include a family living in someone's basement? Or a family that moves from apartment to apartment because they cannot afford the rent?
A more accurate estimate of child homelessness was determined by a 2013 study from the National Poverty Center. Using family income and a category called "Extreme Family Poverty," which they define as making less than $2 per day per person. These are households with children who are living with virtually no income. They also used a term called Deep Poverty which is half of the normal poverty rate. These are the poorest of the poor families living in the US. Here is a quote from their study:
"We estimate that in mid-2011, 1.65 million households with 3.55 million children were living in extreme poverty in a given month, based on cash income. This constituted 4.3 percent of all households with children... The prevalence of extreme poverty rose sharply between 1996 and 2011, with the highest growth rates found among groups most affected by the 1996 welfare reform act."
http://npc.umich.edu/publications/u/2013-06-npc-working-paper.pdf
Using 4.3 percent as an estimate of the percent of homeless students in Washington State in 2011, this would indicate that there were about 44,000 homeless students among Washington's one million students in 2011. This is

60% greater than the OSPI estimate

of 27,390 students for 2011. Adding 60% to the current school year number of 38,500 makes the actual number of homeless students about 61,600 students. Adding in the young children not yet in school brings the total number of homeless children in Washington state to about 80,000 children. This is more than double the estimate from OSPI.
Where will the Homes come from for the Homeless Children?
There are about one million vacant homes in Washington state as a result of the 2008 banking collapse that led to job losses and hundreds of thousands of families losing their homes here in Washington state. I will work directly with the banks to open up these homes to homeless families. If needed, we will build additional low income housing near schools. With more than 10 vacant homes for every homeless child, it should not be a problem to find housing. Where low income housing needs to be built, a federal program will pay for 90% of the construction. It will even pay for most of the rent. Where there is the political will, there will be a way.
Universal free breakfast and lunch program
As Superintendent, I will also expand the free school breakfast and school lunch program to all students. This will actually save money as school districts will no longer be required to spend massive amounts of time filling out paper work. Nor will students be dependent on getting their parents to fill out paperwork. If a child is hungry at school, meals will be provided.
Why is this program needed now?
Beginning in 2016, the federal food assistance program called SNAP will have a time limit imposed which will cause many Washington families to lose their federal food assistance. This time limit well cause many children to be increasingly hungry. This not only will interfere with a child's ability to learn, but starving children in the richest nation in the history of the planet is grossly immoral.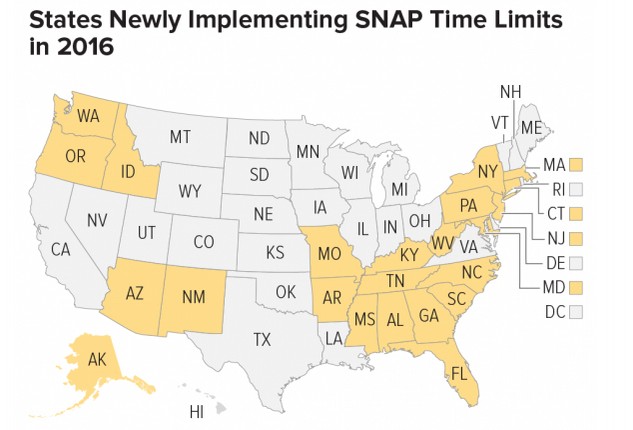 There is considerable evidence that nutrition, and eating breakfast in particular, is important for cognitive functioning and academic success. Improving children's food security through school meals is a key means not only to improving their health and development, but also their school performance. In a 1998 study contributed to the Journal of the American Academy of Pediatrics, researchers reported a close relationship between adequate nutrition and academic performance. Children from low-income families that reported multiple experiences of food insecurity and hunger were more likely to show emotional, behavioral, and academic problems than were children whose families did not report experiences of hunger. According to the study, aggression and anxiety had a very strong association with experiences of hunger and food insecurity.
http://pediatrics.aappublications.org/content/pediatrics/101/1/e3.full.pdf

A recent study of the National School Lunch Program in the mid-20th century found that participation yielded long-term positive effects on educational outcomes (Hinrichs, 2010). Nonetheless, not all students participate in the school meals program, including many who are eligible for free or reduced price meals. Students may be reluctant to participate due to the stigma associated with a subsidized meal; that is, they may perceive school meals as ''just for poor kids.'' Universal free school meals would be a more effective option than the targeted three-tier food service system in alleviating the stigma associated with eating school food.
This would help to increase school meal participation, especially for the low-income children most at risk for food insecurity. Universal free meals also saves a huge amount of money by eliminating the paperwork required to process the three tier meal system.
Breakfast After the Bell
S

ome of the most successful school breakfast programs don't happen in the cafeteria. Instead, kids eat breakfast during their first class period, which doesn't single anyone out, or require that some children get to school earlier.

We call that breakfast

after the bell

.

K

ids are able to eat with their classmates. They eat while the teacher is taking attendance or doing the first morning lesson, and they're able to start the school day ready to learn because they've had a healthy breakfast.

We will also expand the program to include free meals after school and free meals with summer school.
In states and school districts that have adopted a universal free meals program, participation in meals rose from 50% to as high as 75% of students.
Currently, schools are paid 42 cents for each full price meal they serve, 2.81 for each reduced price lunch and 3.21 for each free lunch. They are also paid 2.00 for each breakfast. These prices do not cover the full cost to schools of providing lunch. However, the cost of providing universal free meals to all children in our state should still be less than $5 per child per day or less than $1,000 per child for the entire school year.
What about the bill passed by the legislature to "help" homeless children?
Washington state receives about $950,000 per year from the federal government to help homeless students. With more than 80,000 homeless children, this comes to about $12 per child per year. In other words, this is a fake program which offers no help at all to homeless children. Sadly, so is the State bill that just past the legislature.

Legislators claim

that the

2016

supplemental budget included

$15 million for aiding

youth

homelessnes

s

.

But

House Bill 1682 is a

fake bill and

and insult to the serious problems facing homeless children

.

W

e have more than

80

,000 homeless youth in Washington state. So $15 million

for youth homelessness

boils down to $

2

00 per homeless child or

less than

one dollar a day per homeless child.

This is not enough to buy the child a cheese burger - much less a permanent and stable home.
But the reality is that all this Homeless Kids Bill really does is pay for more administrators to count the homeless kids.
And the real amount of money in the supplemental budget - just $2 million
per biennium or $1 million per year. While this does "double the amount" given by the federal government, all it really does is pay for more administrators. The additional $12 per homeless child per year does not ever get to the homeless child
.
The homeless kids will not even get a piece of gum.
W
ho voted for this fake Homeless Kids bill?
Because it does not really do anything but sounds really good, the bill got a lot of support including Reykdal both sponsoring and voting for the fake bill.
Conclusion
Once again, our corrupt and extremely dishonest legislature has made a big deal and held press conferences on how they are helping the homeless when in reality they are only supplying $12 per homeless child per year when what is really needed is $12,000 per homeless child per year. Instead of providing one million dollars per year, I will provide one billion dollars per year. If you want to see real help for homeless kids, then I hope you will support our campaign. Together, we can transform the lives of thousand of students here in Washington state.
As always, we look forward to your questions and comments.
Regards,
David Spring M. Ed.
David (at) Spring for Better Schools (dot) org