Recently, an oil train derailed and caught fire in northern Oregon. The train wreck occurred just 250 yards from the Mosier Community School forcing the evacuation of over 200 students. Thankfully, the train wreck occurred on a calm day with no wind. Had the train wreck occurred on a windy day, the health of over 200 students would have been placed at risk. Such "bomb trains" are a danger to anything within one mile of the train track. A study found that there are nearly 500 schools in Washington State that are within this one mile wide "blast zone" and that 158,364 students attend these schools. In this article, I will provide several reasons the Washington Superintendent of Public Instruction should protect the health of our students by publicly opposing oil trains in Washington State. Please share this important article with other parents, teachers and concerned citizens. Here is an article about the Oregon train wreck.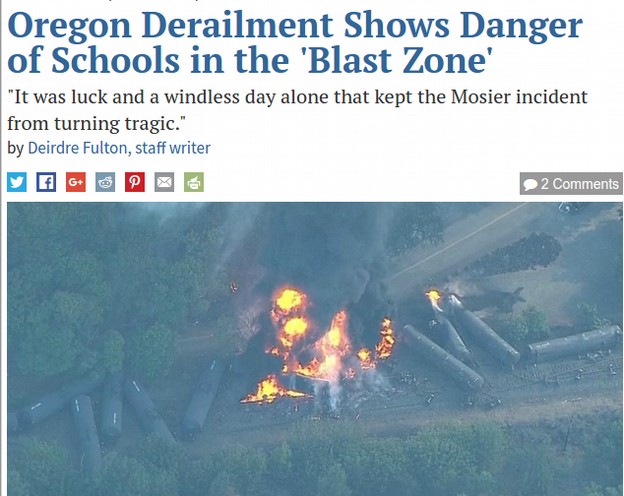 Mosier District Fire Chief Jim Appleton said that had it been windier on the day of the derailment, "I have a high degree of confidence that the school building would have been at a minimum effected if not completely incinerated."Matt Krogh, Stand extreme oil campaign director stated: "It was luck and a windless day alone that kept the Mosier incident from turning tragic. The Union Pacific oil train that derailed and exploded in Mosier was 250 yards from a school filled with young students who heard and felt the explosion. No student, no family should have to live with that experience."
Given the immediate dangers as well as adverse health impacts of these oil trains, Stand is calling for an immediate ban on oil trains and a swift transition to clean energy. Here is a link to the study showing how many schools and students are placed at risk in Washington and Oregon by these oil bomb trains.
https://issuu.com/stand.earth/docs/schools-report-final-web
Here is a picture showing how close the school was to the burning train: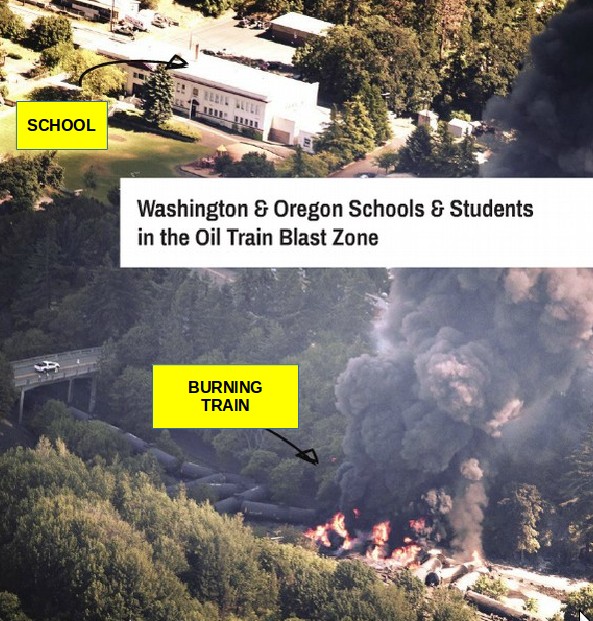 Here is a map of the bomb train routes and blast zones in Washington state: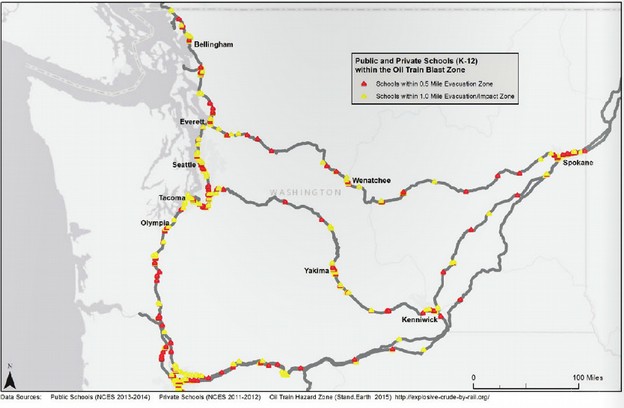 Here is another map of the bomb train blast zone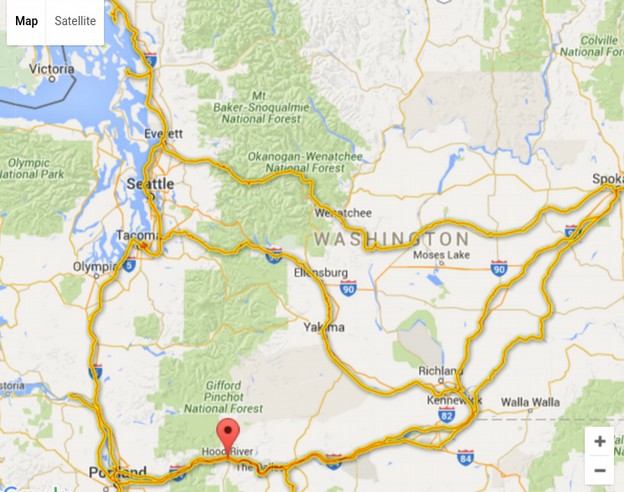 Here is a close up of the bomb train blast zone in the Puget Sound Region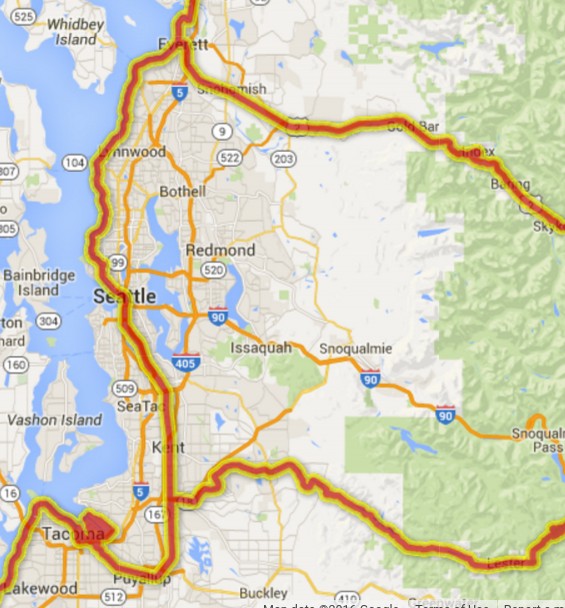 Here is the blast zone going through Seattle: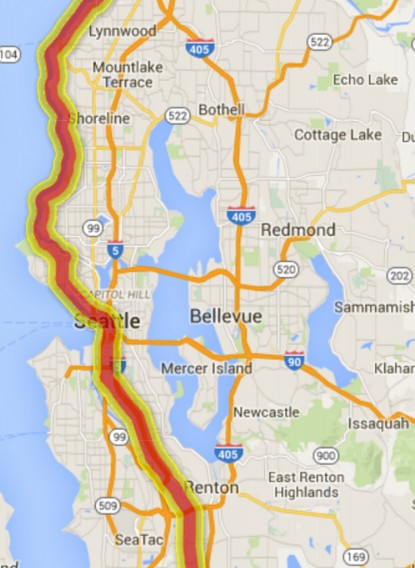 Adverse Health Effects of Oil and Coal Trains
Even if the oil trains do not actually blow up near schools, they still harm students in several ways mainly by leaking diesel and coal dust into the air. Here is a portion of a statement about these adverse health effects by a group of doctors in Whatcom County:
"The proposed coal shipping terminal at Cherry Point will mean eighteen or more one-and-a- half mile long trains traveling across the state and through our communities each day... This will result in the release of significant amounts of airborne pollutants from diesel engines and coal dust... As a group of local physicians, we are deeply concerned about the health and safety impacts of this proposal. Our careful review of the data published in peer-reviewed medical journals shows that:
Diesel particulate matter is associated with impaired pulmonary development in adolescents; increased cardiopulmonary mortality and all-cause mortality; pulmonary inflammation; increased severity and frequency of asthma attacks, ER visits, and hospital admissions in children; increased rates of heart attacks in adults; increased risk of cancer.
Coal dust is associated with chronic bronchitis; emphysema; pulmonary fibrosis; environmental contamination through the leaching of toxic heavy metals
Noise exposure causes cardiovascular disease, including increased blood pressure, arrhythmia, stroke, and heart disease; cognitive impairment in children; sleep disturbance and resultant fatigue, hypertension, arrhythmia, and increased rate of accidents and injuries; exacerbation of mental health disorders such as depression, stress and anxiety, and psychosis.
The effects of air pollution are not hypothetical, but real and measurable. Many of the reviewed studies, some of which were conducted in the Seattle area, show significant health effects of exposure to everyday airborne pollutant levels that are below national U.S. Environment Protection Agency (EPA) guidelines. The data show a linear effect with no specific "safe threshold." The conclusion that airborne pollutants pose a significant and measurable health risk was also found by the American Lung Association, in their review, "State of the Air 2011,"and by the American Heart Association, in their 2011 review, "Particulate Matter Air Pollution and Cardiovascular Disease." A study in 2010 by the Puget Sound Clean Air Agency and the University of Washington showed that, "Diesel emissions remain the largest contributor to potential cancer risk in the Puget Sound area."
As physicians, we feel the risks to human health from massive coal shipments across our state and through our communities are significant, and we call for a comprehensive Health Impact Assessment, in addition to an Environmental Impact Statement, addressing these issues along the entire rail corridor. While these studies are highly complex and require substantial resources and oversight, we feel they will, if done correctly, reveal that the potential for harm to human health and our environment are considerable and should not be ignored.
Key References:
With Respect, Whatcom Docs
Oil Trains, Coal Trains and Climate Change

Coal and oil trains will
increase greenhouse gas emissions and climate change impacts harmful to ecosystems and biodiversity, both globally and locally.
C
oal exports
alone would increase
by 100 million tons annually
. Both the coal and oil will eventually wind up in our atmosphere. The only solution to the climate change problem is to immediately end our dependence on coal and oil by moving to safer energy sources like solar power.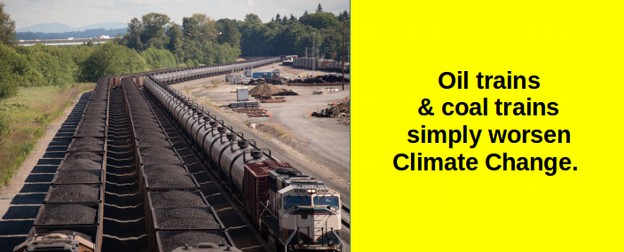 What you can do to stop these dangerous oil and coal trains


During the next month, hearings will be held in Vancouver and Olympia on a proposal to expand oil and coal trains.

Since this is a trial like setting, no public comments will be allowed. However, the public can attend and protest at these hearings. Here are the dates and locations of the coming hearings:
June 27- 30 Vancouver, Clark College Conference Center, 18700 SE Mill Plain Blvd.
July 5-7; July 11-14; July 18-21 Olympia Red Lion Hotel, 2300 Evergreen Park Dr. SW
July 25-29 Vancouver Clark College Conference Center, 18700 SE Mill Plain Blvd.
Why
the Superintendent of Public Instruction Should Oppose Oil Trains

Our one million kids are required by law to attend public school. It is essential that they be provided with a safe and health school environment. It is simply not safe to allow oil and coal trains within one mile of our public schools. We already have a huge problem in our schools with increasing asthma attacked. Deterioration of air quality from oil and coal trains would only make this problem worse.
Article 3, Section 22 of the Washington State Constitution states that the
"
Superintendent of Public Instruction shall supervise all matters
pertaining to
our public schools.
"
Student health and safety is included in "all matters."
I therefore ask not only our current superintendent but all candidates running for Superintendent to publicly oppose any oil or coal trains within one mile of any school in Washington state.
As always, I look forward to your questions and comments.
Regards,
David Spring M. Ed.
Candidate for Superintendent of Public Instruction